Past Mobile Data Studio Version
| | |
| --- | --- |
| | Mobile Data Studio version 7.2.0 released 4 June 2013 |
Android and Apple iOS Mobile Data clients

FOLDERS FOR SESSIONS: Sessions are organised in 'Active Sessions', 'Sent Sessions' and 'Deleted Sessions' folders; see on right. Reference access for users in the field to sessions that have been sent to Mobile Data Studio server improves user experience. The Settings page provides a control for timing of 'purge' of sent and deleted sessions, from immediate out to 100 days; default is 7 days. To avoid double entries in databases, sessions in the Sent folder cannot be re-sent to the Mobile Data Studio server. However, sent and deleted sessions can be duplicated and returned to the Active folder.

LANGUAGE TRANSLATION OF MENUS: The ClientLanguage.ini text file in the Mobile Data Studio program folder (usually C:\Program Files (x86)\Mobile Data Studio) now makes text of menus for Mobile Data for Android and Apple iOS available for translation to improve user experience. The translated INI file is offered to mobile clients by checking the 'Offer language translation file' in Wireless Options (Tools > Server Online). The INI text file can also be used to customise instructions to mobile users. When translating to Simplified Chinese the INI text file should be saved as Unicode format. Following translation of INI, keep a copy outside of the Mobile Data Studio program folder as updates will replace the INI with original. Copy translated INI back into Mobile Data Studio program folder after update.

CAMERA AND SKETCH POINT SIZE ALIGNMENT: The range of Camera image capture size and matching presentation in Sketch point has been widened from 320x240 to 1600x1200 pixels, set in project Design mode. For presentation of images in reports the 640x480 and 800x600 sizes are usually sufficient. The Lines option in Sketch point provides options for non standard images. Camera point Thumbnail now includes 640x480 option for larger screens. Please see Apple iOS section below for information on new 'Zoom to Sketch' option which is not available in Android.

OTHER: Date Time point supports 'minutes since midnight' for Math point calculations, consistent with Windows Mobile. Clearing of point 'Retain Session Value' in Android and Apple iOS now only requires simple exit of Project, consistent with Windows Mobile. Display of images in Link and Layout points adjusted for high resolution screens,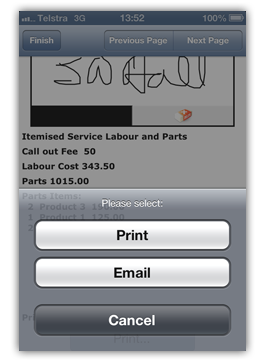 Apple iOS
PRINT POINT: The Print point is now supported in Apple iOS, generating printable HTML with images via a HTML Template. The HTML and any associated images can also be emailed. The Print option prompts for AirPrint capable printers . There are a wide range of AirPrint capable printers; however, we are not aware of a portable battery powered AirPrint printer, thus for field use a 240V or 110V printer would need to be connected to a vehicle battery by an inverter. Hopefully, truly mobile AirPrint printers will become available.
SKETCH POINT: Apple iPad and iPhone now support a 'zoom to sketch' operation with images that are greater than 640 pixels wide. The zoom to sketch function operates with images either loaded to point at project design, taken by the camera in the field or accessed from the 'Gallery' via the Camera point. The zoom to sketch enables mark up of maps (including screen capture of Google Earth/Maps), diagrams and images with precision.
FIXES: Camera point image in iPad could previously be cleared without a prompt to user, now confirmation is required. With some long pages on the iPad it was difficult to reach the bottom of the page with the keyboard open, that has been resolved. Support for larger display on iPhone 5.
Windows: Design mode and Server

ULTRADROP POINT: There is now an option in properties for 'Appearance' that enables display from the UltraDrop point as 'On screen selection' in the alternative to the previous 'Pulldown drop list'. The presentation of items in a similar manner to the Selection point has advantages for some operations where only a few data items may be filtered for presentation, and for big fingers. The 'On screen selection' display is available for Android, Apple iOS and Windows Mobile clients.

EDIT POINT: New option for 'Read only value (on mobile client)'. This can be useful where session data may be loaded to sessions on server side either from XML Incoming, Data Script or Local session and it is important it not be altered on the mobile client.

DATA WINDOW: New option to 'Show GUID column' to display session identifying GUIDs. Accessed via either the 'Data' menu or right click on frame of Data Window.

XML IMPORT OF IMAGES: Images processed at Mobile Data Studio server via XML Outgoing can now be returned to mobile clients via XML Incoming. This process also works for Sketch points. The sketch data is saved in a '.bin' file which will reimport the correct sketch data to Sketch point.

WARNING ON DATA FILE SIZE: Projects with session data files exceeding 2 Gigabytes will evoke a warning in the Data Window that 'The PPD data file for this project is becoming too large. Please transfer data to another storage system or database.'.

CAMERA AND SKETCH POINTS: As mentioned above, the range of Camera image capture size and matching presentation in Sketch point has been widened from 320x240 to 1600x1200, and Thumbnail to 640x480 pixels.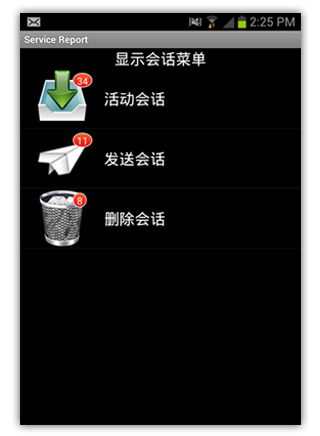 Issues identified during deployment of MDS 7.2.0
Any issues arising will be advised here.
Please NOTE: projects opened in Mobile Data Studio 7.2.0 server side cannot be deployed to previous version 7.1 mobile client devices; the mobile clients should also be upgraded to version 7.2.
Export to HTML: Export of 'All Sessions' to HTML table fails if sessions are not first selected in Data Window. Please select some or all sessions for Export to HTML in the Data Window as first step in the HTML export process. The ability to export 'All sessions' without selection in the Data Window has been lost in transition from MDS 7.1.2 to MDS 7.2. Session data fails to insert in cells in the defective HTML table; either for one or multiple sessions, irrespective of orientation. However, if the HTML export is structured via a HTML Template the export succeeds. This will be remedied in November 2013.
Settings page in Mobile Data for Android: Incorrect spelling of 'encryption'; it shows translation testing term during development of 'encryptionski'. There are no functional implications. To fix the text, download the corrected ClientLanguage.ini file and save it to the Mobile Data Studio folder in Windows replacing the previous file. The Mobile Data Studio folder is usually C:\Program Files (x86)\Mobile Data Studio. To fix the text on connecting Android devices, in Mobile Data Studio Tools 'Server online' menu tick 'Offer language translation file' and mobile clients will be offered the revised language file. We apologise for this and remedied MobileData.apk and MobileDataStudioSetup.exe files are available for download on 17 June 2013.