Mobile Data Studio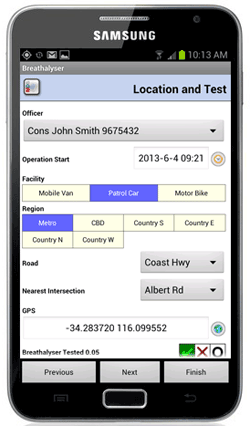 Create business applications for mobile computing with Mobile Data Studio (MDS). Mobile Data Studio is used in over 50 countries. Deploy projects to Android and Apple iOS Smartphone and Tablet devices, and to Windows 10 Tablets. Mobile device side deployments are referred to as 'Mobile Data for Android', 'Mobile Data for Apple iOS', and 'Mobile Data Client for Windows 10' . Mobile Data for Apple iOS is in the Apple 'App Store' as a free client side software for the iPhone and iPad. 'Mobile Data for Android' is in the Google Play Store and 'Mobile Data Client for Windows 10' is available for download below.
You don't need to be a programmer to create powerful applications to improve business productivity and eliminate paperwork. It's a unique, simple, and low cost solution! A simple drag and drop of points process to design powerful projects for mobile data capture. Mobile Data Studio version 10.4.6 is the current version.
A fully integrated mobile project design studio, powerful and secure wireless client and server, and data management system. Turns Smartphones and Tablets into powerful data management computers.

'Mobile Data Studio'
supports
Android
,
Apple and Windows 10
devices for productivity.
Design Projects in Minutes
Normally it would take programmers days to write applications in code that now you can set up in a few minutes in Mobile Data Studio. Simply 'drag and drop' from an array of powerful data capture and management functions.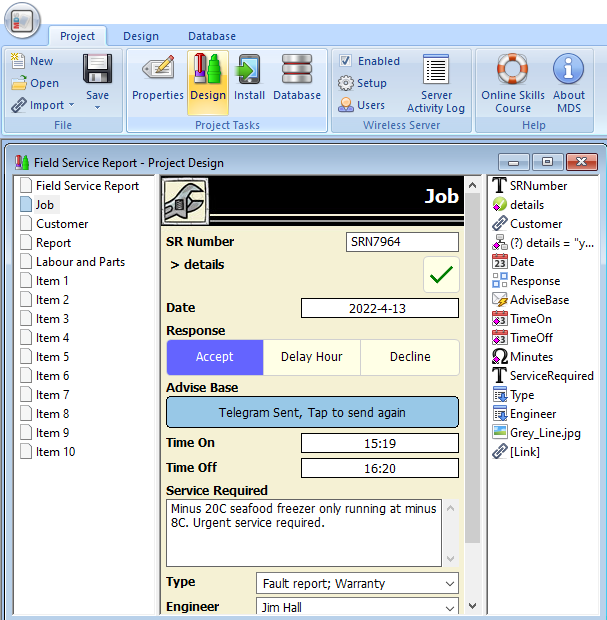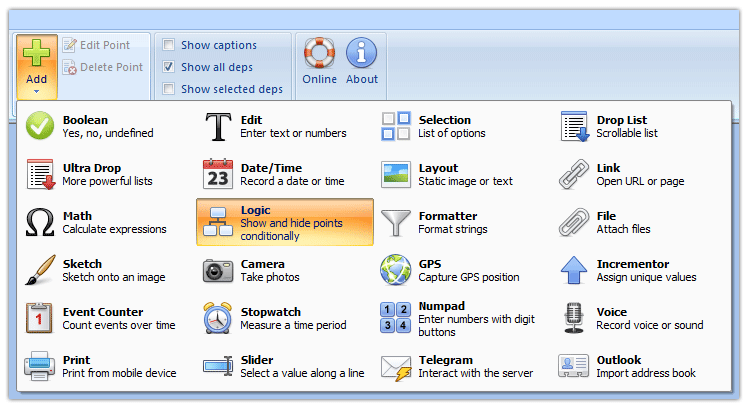 Mobile Data Studio is great value for money. Develop multiple projects to improve productivity. This will be the smartest app on your Smartphone, improving the competiveness of your business. Deploy Mobile Data for Android, Apple iOS and Windows 10 to Tablets with seven and ten inch screens for data entry in large survey and audit type projects.
Wireless Mobility
Mobile Data Studio enables data to be securely transfered wirelessly via any transmission medium that supports the common TCP/IP standard, including using Smartphones and Tablets via 5G, 4G, 3G, 4G LTE and 2G mobile networks and WiFi wireless LANs and WANs. TCP/IP connections can also be made via device 'WiFi Hotspot' and 'USB Tethering'. Wireless Setup (see Settings below) enables either connection via the IP address of PC or server hosting the MDS server side, or via the convenient MDS Cloud Relay provided by CreativityCorp.
Powerful Data Management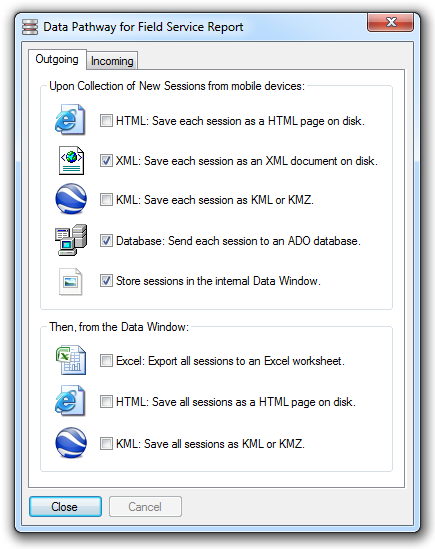 Mobile Data Studio has powerful data management functions to both send and receive data to and from mobile devices:
Data Pathway to automate session data flow
Industry standard ADO database support
XML Outgoing from server
XML Incoming to receive, queue and send data sessions wirelessly to the field
HTML output, including using formatted HTML templates for printing and email of reports
Output to Excel spreadsheets, including links to images
KML and KMZ files to show data and images in Google Earth and other mapping software
Customisable automated file naming
Database Window with search and filter for optional manual management of data
Data Script to fully automate interfaces to and from Mobile Data Studio from external programs, using VBScript
Large data sets managed by the UltraDrop point with dynamic updating of data if the source file is modified
Mobile Data Studio manages multiple data streams concurrently from multiple Apple, Android and Windows 10 devices. One, three, thirty or three hundred mobile devices can be managed by the Mobile Data Studio server. Easy to set up; enjoy mobilising your business with software that is used 'day in day out' by business in over 50 countries in many industry sectors.
Free Trial
Please enjoy a free 30-day trial of Mobile Data Studio, with all features included. When accessing trial Mobile Data Studio, opportunity to try MDS Cloud Relay will also present.
Mobile Data Studio mobile clients run in Android, Apple iOS, and Windows 10 operating systems on mobile devices. Projects/applications developed with trial Mobile Data Studio will run in the licensed software when purchased.
Step One: Download
Trial Mobile Data Studio installs to Windows desktop or laptop PC, or a Windows server, as for other downloads to Windows. Mobile Data for Android is a free download direct from the Google Play Store. Mobile Data for Apple iOS is available as a free download at the Apple 'App Store' either via direct download or iTunes, search for 'Mobile Data Studio'. Mobile Data Client for Windows 10 can be downloaded direct from this web page to a Windows 10 tablet and the MobileDataClientSetup.exe file be run to install.
Please complete the form below to assist us to support you. Our privacy policy is available for review.
Step Two: Install
The MobileDataStudioSetup.exe file will be located in the 'Downloads' folder on your computer if you chose the save location suggested before download. Close other programs which may be open before installing. Double click the file and it will 'unpack' to install on your desktop or laptop computer. (Note: Installation to Windows 10 on a network may require administrative privileges, software may not be installed from a 'User' account. Log on as an 'Administrator' before installing Mobile Data Studio.
Mobile Data Studio Server on desktop PC: Go to Start and 'Programs' on your desktop or laptop PC and find the 'Mobile Data Studio' program in your PC's Programs listings. The Mobile Data Studio link will take you to the desktop version of the trial, from there open and design projects to install on a mobile device. When Mobile Data Studio is first opened a simple 'Sample Page' is displayed to presen the basics; the contents can be examined and deleted to use a new template for a project.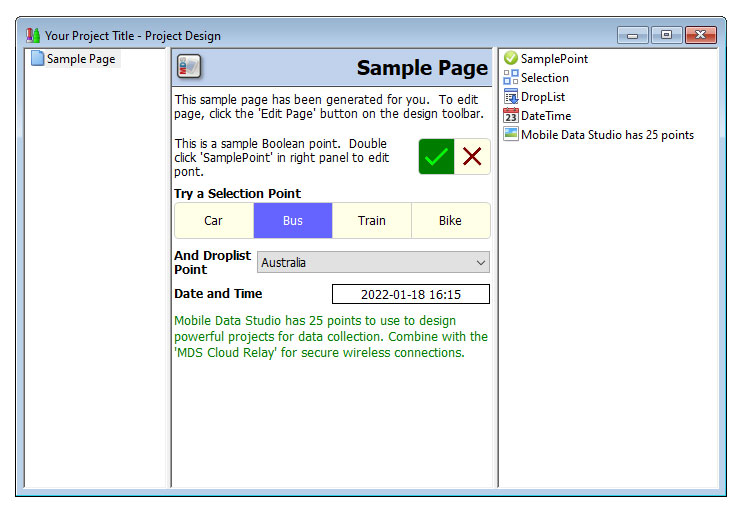 For examples of completed projects, open the Field Service Report project and other Example projects to explore designs and functions, usually in C:\Program Files (x86)\Mobile Data Studio\Examples.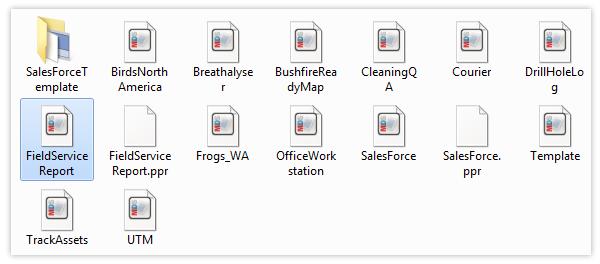 Consider using MDS Cloud Relay to connect MDS Server and mobile client devices, see Skills page 10.

With non-relay connection, with any firewall protecting network security, enable Mobile Data Studio as an 'allowed program'. Via Windows Settings search for 'Firewall' and 'Allow programs (or app) to communicate through Windows Firewall.'
Open Log View in the control panel for the Wireless Server to show the Wireless Activity window and 'Listening on IP Address:' to determine the IP Address to be matched up in Settings in Mobile Data Studio on mobile client device. There may be two IP Addresses shown, for WiFi local area network and for connectivity with mobile phone network via the Internet.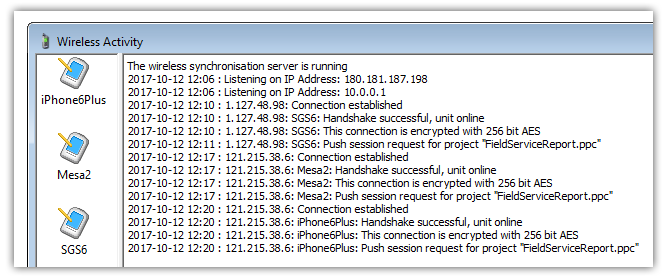 Android mobile client: The Mobile Data for Android software must be installed to Android mobile devices direct from the Google Play Store and the device be connected to the Mobile Data Studio server before projects can be installed via click on the Project 'Install' icon per above. Connected Android, Apple iOS and Windows devices will appear as shown below. Select device and click to install project to Android device. See full instructions for installation and use on Android devices.
Apple mobile client: Mobile Data for iOS is available as a free download at the Apple App Store direct or via iTunes, search for 'Mobile Data Studio'. The Mobile Data for iOS is 'full' software that will interface both with Trial Mobile Data Studio and serve as client device software on purchase of Mobile Data Studio (amongst the number of client devices licensed with Mobile Data Studio). See full instructions for installation and use on Apple iOS devices.
Mobile Data Client for Windows 10: After installation of the Mobile Data Client by running the MobileDataClientSetup.exe file a folder showing 'Mobile Data Client' is shown in Start containing the 'MDS' icon which can be pinned to Start and Taskbar. See full instructions for installation and use on Windows 10 tablets and other devices.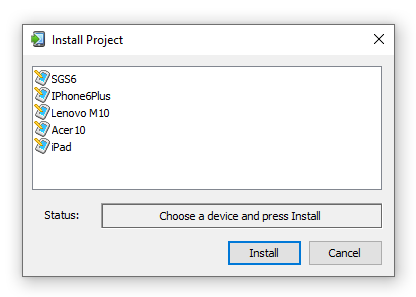 The 'Start' or 'Programs' or 'All Apps' menu on the mobile device will provide a link to Mobile Data ('MDS' icon). Install other example projects to test them, they can be deleted later when you have designed your own projects. Mobile Data Studio can run multiple projects on a Smartphone and Tablet.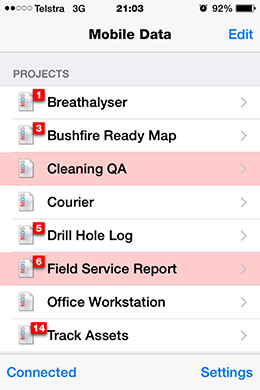 Step Three: Learn New Skills
Before developing and running Mobile Data Studio projects we recommend reading the online Skills tutorial.
Hardware and Device Compatibility
MDS Server Operating Systems: To run Mobile Data Studio 10 server, recommended operating systems are Windows 10, 11 and Windows Server 2008, 2012, 2016 and 2019.
MDS Client: Mobile Data Studio client runs in Android , 4.1 plus, 5 plus, 6 plus, 7 plus; 8 plus, 9 plus, 10 plus, 11 plus, and 12 plus. Apple iOS 12, 13, 14 and 15 plus operating systems, and Windows 10 in Tablet mode.
'Mobile Data Studio' is a Business Name registered in Australia by CreativityCorp Pty Ltd.