| | |
| --- | --- |
| | NOTE Windows Mobile 'End of Life': Mobile Data Studio evolved from 'Pocket PC Creations' software developed by CreativityCorp for Windows Mobile devices, often called 'Pocket PCs'. While few Pocket PCs are now deployed, there are industrial devices in use that use the Windows Mobile operating system. Mobile Data Studio for Windows Mobile caters for customers still using these devices. However, Windows Mobile devices were substantially dependent on Microsoft ActiveSync for communication via USB cable. ActiveSync was replaced by Microsoft Windows Mobile Device Center which is no longer supported by Microsoft and has become inoperable in Windows 10. Instructions provided here cover both use of ActiveSync/Windows Mobile Device Center and alternative effective wireless (TCP/IP) communication by WiFi. Wherever possible please use TCP/IP wireless via WiFi, mobile network or other TCP/IP in preference to ActiveSync. |
Page 10: Windows Mobile - Installation and Use
Installing Projects and software to Windows Mobile device or Pocket PC
When design of a project is completed using Mobile Data Studio on a desktop PC, the project or application can be installed on a Windows Mobile Smartphone or Pocket PC. The project files are only small in size, most being less than 30KB, so many projects can be loaded onto a mobile device. These are the simple steps to initially install Mobile Data Studio and then install projects:
Connect the Windows Mobile device or Pocket PC to the desktop or laptop PC, following the instructions provided by the manufacturer, probably connecting using a USB cable.
Verify that the Windows Mobile device or Pocket PC has been recognised by the desktop PC. If necessary, locate the Microsoft ActiveSync or Mobile Device Center program on the Windows Start menu and follow its procedures for connecting the mobile device.
Open a project (yours or Examples at C:\Program Files (X86) \Mobile Data Studio\Examples) and double click the Install icon in the Project menu of Mobile Data Studio.
The Install Project window will open; on first install, select Pocket PC connected via ActiveSync and tap the Install button.
Mobile Data Studio will install the project on the mobile device. This will also prompt installation of the Mobile Data software, running as Mobile Data, if it isn't already installed. Follow prompts to install to main memory (Default, and recommended) or SD and CF cards.
| | |
| --- | --- |
| | |
If there are any problems with Install, it is likely to be with the communications between the mobile device and desktop PC. Troubleshooting help is available with Microsoft ActiveSync and Mobile Device Center. Note, Windows 10, 8, 7 and XP installation may require administrative privileges if software cannot be installed from a 'User' account. Log in to Windows as an 'Administrator' before installing Mobile Data Studio.
Installing the software - Unit ID
After Mobile Data Studio software has been installed for the first time (when the first project is installed), a dialogue box will appear requesting assignment of a name or Unit ID to the particular Windows Mobile device or Pocket PC to which the project has been installed. This Unit ID is attached to any project sessions initiated on that mobile device, and can be used to identify where each set of project sessions came from if multiple mobile devices are used from a single desktop PC. There is flexibility for using any Unit ID, for example - numbers (eg 127), a name (eg JillSmith), business (eg CreativityCorp), business unit (eg Engineering); however, there must be nospace.
Installing Modified/Updated Projects
When installing to update a modified project, 'Finish' or close any session open on the Pocket PC and close the project via Menu and 'Back to Main' before installing the updated project via Install from the desktop PC. The wireless TCP/IP functions of Mobile Data Studio (see page 11) have advanced features for remote detection of updates and installing updated projects; the set up for Windows Mobile are described here.
Wireless Client Settngs
Windows Mobile client device (with Mobile Data already installed):
Start Mobile Data and click the Menu button on the command bar of the Project menu and then click Wireless Options, per screen below.
Wireless Synchronisation options will present, check 'Connect to a server:' and the options required.
Enter the IP or name of the host PC/server for Mobile Data Studio server in the 'Address' field. Either or both a Local Area Network or an externally exposed Internet related Address will be shown in the Wireless Activity window of Mobile Data Studio. In the alternative to a numeric IP address a text DNS can be used; for example mds.creativitycorp.com . A screen shot of Listening on IP Address is shown below, presenting an external IP address (180.181.187.198) and address of a local WiFi network (10.0.0.1).
Enter the same password as above in the 'Password' field and check 'Require and use AES-256 encryption' if that is applied in Mobile Data Studio server .
If using a Smartphone, check 'Automatically connect to the Internet' for Mobile Data to launch the wireless connection. Another option provided is 'Automatically connect to Work', where 'Work' is a virtual private network or VPN. Normally, for a local mobile device to desktop PC connection these contols should be unchecked.
For most wireless operations, check 'Maintain a continuous connection'.
If there is a rapid and repetitious use of sessions for transfer to the Mobile Data Studio server, then check 'Auto submit sessions; otherwise leave it unchecked to enable greater control over transfer of sessions. Auto submit provides three options based on whether the sessions are 'new' originating on the client or 'old' originating on the server.
To automatically receive sessions on connection to the server, check 'Receive new sessions upon connect', this is an alternative to the manual synchronise action. (Note, here 'new' doesn't have the same meaning as at 7.)
The 'Allow remote assistance' option enables the operator of the Mobile Data Studio server in the office or base to remotely view the Mobile Data and Smartphone screen if assistance is requested; this is a useful support option and should be checked (operation of Remote Assistance is described below).
When options are selected, click 'OK'.
| | |
| --- | --- |
| | |
Using Projects on Windows Mobile devices
(Please scan images below before reading steps 1 to 11)
| | |
| --- | --- |
| | |
| Project Window. | Project menu. |
Now that the project/application has been installed on the Smartphone or Pocket PC, it can be used in the field. These are the simple steps to use a project:
Mobile Data is selected from the Start or Programs menu on the mobile device.
If only one project is installed, the first screen will be the Session Window (see image below), tap New to open a Session to collect data. If more than one project is installed, the first screen will be the Project Window (see image above), single-tap a project with the stylus to select and launch it. Single-tap and hold will bring up the Project Menu with options: Synchronise (for wireless use, see page 11 Wireless (TCP/IP) functions), Backup Data to make backup of project sessions, Restore Data to recover the backup, Delete to delete the project, Wireless Options (see Wireless, page 10), Request Assistance via wireless connection (see Wireless, page 11) and Exit to close Mobile Data.
Backup Data and Restore Data should be used for extra security before synchronising or transferring data from the mobile device to the Mobile Data Studio server. It only takes seconds to backup a days work.
With a session open, the first page of the project will appear on-screen, as it did in the design window on the desktop PC.
Tap points to enter observations, and the keyboard or character recognition icon, which will display the Pocket PC input panel for entry of text and numbers.
On completion of the session, tap Menu and Finish Session at the bottom of the screen. The project session will be saved and the program will return to the session window showing the date of the session and time it was commenced, and information set for Session List Columns.
A list of sessions performed with the project will appear in the Session Window. To display a name and other data for a session, in project Design select Session List Columns via Project 'Properties' Options.
Another important session management tool is to tap either Menu or tap and hold one or more of the sessions icons down the screen, displaying the Session menu with session management options: Send Now (for wireless dispatch, see Wireless page 11), Duplicate, to generate a unique copy of a session, Delete, Export HTML (see below) Mark for Send (for wireless dispatch, see Wireless page 11), Unmark of session, Synchronize for wireless dispatch of marked sessions, Lock Columns to set the width of Session List Columns, and Back to Main to return to the Project Window and close the open project. A number of sessions can be selected by dragging the stylus through the sessions in the Session window.
Sessions arriving on a Pocket PC from a desktop PC or server, either via ActiveSync or wirelessly, are identified by a red project icon (see Project screen above), and red session icons (see Session screen below).
To Sort sessions in the Session screen/window, tap the column header. The width of columns can be adjusted by dragging the frame, it is preserved when leaving the Session list to go to the Projects display screen (preservation process, not by opening a New session), and the width can be set using Lock Columns in the Session Menu.
To close a project, tap Menu and Back to Main.
| | | |
| --- | --- | --- |
| | | |
| Session Window and Session menu | Session menu open on selection of session | Session menu within open session. |
When deleting project sessions using the Delete button, a cautionary prompt will appear. Deleted sessions cannot be recovered.
Export HTML for Printing
The Export HTML option in the session menu enables output of session data to a HTML template which generates HTML pages available for printing with third party software, such as PIEprint. The HTML pages can also be attached to emails.

A HTML template suitable for use with Mobile Data Studio is a standard HTML file, with one important exception: - whenever Mobile Data Studio detects a tag of the form <%PointIDName%>, it will replace the entire tag with data from the named point, where point ID Name is the name of the point, eg Customer, Company.

The Export HTML menu presents fields for location of the template file on the Pocket PC, which can be browsed to locate, and for folder to save generated HTML pages (eg \My Documents\Print, could hold both the template and HTML generated).
| | |
| --- | --- |
| | |
The default file name for the HTML output is %.date% %.time%.htm which will produce files date and time stamped. Data from specific points in the project can be used for file names using %PointIDName%, where point ID Name is the name of the point, eg Customer, Company.
The Open File control will immediately display the generated HTML file in Internet Explorer.
Test the Save HTML function, the Sales Force project has a HTML template that can be copied from desktop to Windows Mobile device from:
C:\Program Files\Mobile Data Studio\Examples\SalesForceTemplate
include GIF images, and save to a new Print folder My Documents\Print on Pocket PC, then follow the simple Save HTML set up menu.
Sketch point images (eg signatures) will be output within HTML pages, these should be deleted from the Windows Mobile device periodically, so they don't use excess storage space.
Synchronising Pocket PC with desktop PC
Having completed project sessions on the Windows Mobile Pocket PC or Smartphone, the session data can then be transferred to a desktop PC/server for storage and analysis, either by standard ActiveSync or Mobile Data Center USB cable connection or wireless TCP/IP communication (see page 11 Wireless (TCP/IP) functions). Session information can also be sent to Smartphones and Pocket PCs from a desktop PC/server, either by cable or wirelessly.
These are the simple steps to synchronise a project:
Synchronising by USB Cable (using Microsoft ActiveSync or Mobile Device Center)
Finish or close any project session on the Pocket PC. Backup Data sessions on the Pocket PC via the Project Menu before synchronising.
Open Mobile Data Studio on the desktop or laptop PC, and the relevant project for receipt of the session data.
Connect the Pocket PC to the desktop or laptop PC, following the instructions provided by the manufacturer, probably using a USB cable.
Verify that the device has been recognised by your PC. If necessary, locate the Microsoft ActiveSync or Mobile Device Center program on the start menu and follow its procedures for connecting the mobile device.
Via either Database icon on Project window or toolbar and Project menu click on 'Sync' to synchronise. This process will remove all relevant project sessions from the Pocket PC and transfer them to the Data Pathway.
Sessions from the Data Window on the desktop can also be sent to the Pocket PC or Smartphone to set up sessions for the field, either via Wireless TCP/IP (see page 11), or via ActiveSync or Mobile Device Center connection using the 'Send To' command in the Data Window.
| | |
| --- | --- |
| | |
The wireless or TCP/IP functions of Mobile Data Studio are superior to standard ActiveSync or Mobile Device Center for transfer of session data, see page 11 Wireless (TCP/IP) Functions.
Language Translation
The Windows Mobile Smartphone or Pocket PC client side controls can be translated (see example below) and the translated file can be offered wirelessly to clients via an option in the server side wireless options (via Setup, see page 11 Wireless). This allows the language translation file, and any updates to it, to be distributed automatically. The ClientLanguage.ini file is found in C:\Program Files (x86)\Mobile Data Studio on the server and can be edited in Notepad. If the translated file is manually copied into the Smartphone or Pocket PC via ActiveSync, it should be renamed to Language.ini and copied into the Program Files / PPCC folder.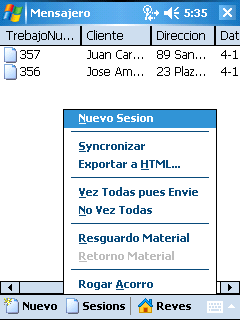 Custom Points
Mobile Data for Windows Mobile supports a special data point called a 'Custom Point', which enables customisation of Mobile Data functionality by end users. Some of the now standard points in Mobile Data Studio began as custom points; for example the GPS point and UltraDrop point. These points have now been included in the main installation process for points in Mobile Data Studio. Windows Mobile (embedded) is often used for mobile computing in industrial environments and CreativityCorp encourages the development of custom points for specific end use. Please see information on development of Custom Points for Windows Mobile which includes compilable code for the Slider point shown below and information on access to COM ports by custom points.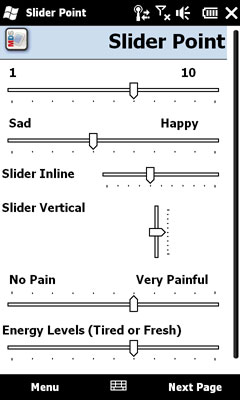 Periscope Software for Windows Mobile
Periscope software displays the screen of a Windows Mobile SmartPhone or Pocket PC onto a desktop or laptop PC for projection, remotely controls PowerPoint presentations and remotely manages files and programs on devices. Full screen display on black background for maximum impact and colour PowerPoint thumbnails on Windows SmartPhone and Pocket PC for confident presentations. Periscope is excellent for training clients and colleagues on new mobile solutions for business. Periscope is also an 'Over The Air' (OTA) tool for management of remote Windows Mobile Smartphones. Periscope software is complimentary for Mobile Data Studio software users on Windows Mobile Devices.

Periscope runs in all Windows Mobile operating systems (which are Windows Mobile 6.5, 6.1, 6.0, 5.0, 2003 second edition) on touch screen SmartPhone and Pocket PC devices.