About Bushfire Ready Map
Bushfire Ready Map enables a standardised assessment of bushfire hazard and risk management for homes. The information can be displayed by tap on a home in Google Earth. Bushfire Ready Map assessments are intended to be conducted by Bushfire Brigade Officers and the information is to be held confidentially by the relevant Brigade to assist service provision during a bushfire.
The vital information displayed using the Bushfire Ready Map system assists Brigades contact occupants of homes during bushfire alert and in deployment of resources for fire fighting and evacuation. The assessment conducted using Bushfire Ready Map during visits by Brigade Officers to homes is also an effective awareness raising process for home occupants and the community. Bushfire Ready Map has been developed by CreativityCorp and has been field tested by the Jardee Bushfire Brigade in Western Australia. The screen shots shown below are for iPhones and iPad, Android smartphones and tablets can also run Bushfire Ready Map. see Support below.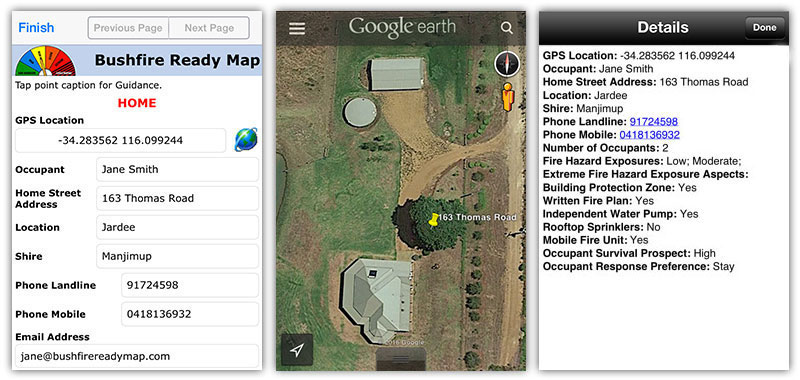 Images from iPhone showing part of assessment, GPS marker on farmhouse and information display in Google Earth.
The Bushfire Ready Map system is pitched towards farmhouses and homes on large blocks in rural and outer urban subdivisions. An Internet connection is not required to conduct assessments at homes, thus the assessments can be conducted in remote areas. An Internet connection is normally required to display the information in Google Earth either at a fire incident control room or in the field. However, Google Earth imagery sufficient to cover an area of responsibility of a local Bushfire Brigade can be downloaded before loss of Internet connectivity for subsequent use in the field.
Download Bushfire Ready Map project and Track Assets project, open in Mobile Data Studio software.
Bushfire Ready Map provides guidance for the assessment process by tap to the assessment point caption. Bushfire Ready Map has been developed using criteria for determining bushfire Hazard Exposure and Building Protection Zone which apply in Western Australia. Similar criteria are used elsewhere in Australia, and the app guidance can be amended for local criteria. After conducting assessments of homes using Bushfire Ready Map, connection is made via the mobile phone network or WiFi to Mobile Data Studio for processing of data to a KML file which can be opened in Google Earth. A tap to the GPS marker on homes displays the vital information. The KML file can be opened in Google Earth on a smartphone, tablet, notebook and desktop computer. The data can also be automatically processed to Excel and HTML in Mobile Data Studio and downloaded for use by the relevant Brigade.